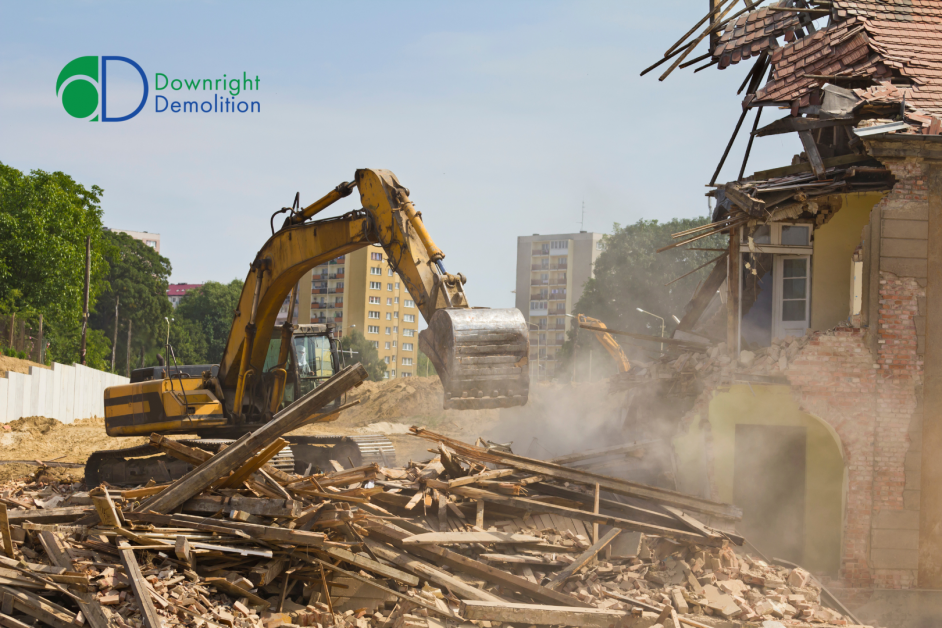 So, you want to get your garage demolished. Maybe you're looking to build a brand new garage or just use that extra room as yard space. Either way, there are probably a million and one questions running through your mind and for good reason! 
There are many things to consider prior to getting started with your garage demolition services here in Edmonton. The health and safety risks associated with garage demolition services, as well as the noise and general interruption of regular life that it brings about, all make it complex. 
In this blog post, we're going to go over nine important things to consider when you are getting garage demolition services. Reviewing these nine considerations will help prepare you to do garage demolition the right way and make sure that you're choosing the right demolition contractor. 
Let's get started! 
1. Asbestos
Whether or not you know the ins and outs of asbestos you know that it is bad. We won't get too sidetracked with too much information about asbestos today. However, if you'd like to learn more about what asbestos is, why asbestos testing is important, and how to get it done, check out our recent blog, Your Step-by-Step Guide to Asbestos Testing in Edmonton. 
When it comes to garage demolition services, asbestos should be the first thing that you consider. Asbestos becomes dangerous (and even deadly) when it is airborne. This means that even if you've had asbestos-containing materials in your garage for years, it's only going to matter when you start knocking it down. 
In fact, here in Edmonton, Alberta, you won't even be able to get a permit (more on this later) to begin your garage demolition until you've had asbestos testing. If your garage was built before 1990, you'll need to have the materials tested for asbestos prior to beginning your demolition. This will help ensure the safety and health of the demolition contractors and you and your family. 
Make sure to double check that your garage demolition services will follow the Occupational Health and Safety requirements. Feel free to chat with your trusted demolition contractor about this if you have any questions. 
2. Permits 
Permits. As we briefly touched on in #1, permits are required for garage demolition services. In order to demolish your garage, you'll need a Development Permit and a Building Permit. 
Permits can be difficult to get ahold of and require lots of time and effort. However, don't worry. Your trusted demolition contractors will be able to help you to sort out all of the details of these permits.
The demolition experts here at Downright Demolition have combined decades of experience with garage demolition services and will have all the answers you're looking for when it comes to permit. 
3. Utility lines
The next thing to consider is utility lines. It's essential for you to disconnect or turn off the electricity, water, and gas lines in and around your garage prior to beginning demolition. Failing to do so can cause dangerous, costly damages and will take your demolition project from smooth to rocky. 
Also, if there will be any digging involved with your garage demolition services, you need to make sure that you call before you dig. 
Again, don't worry – the professionals will take care of the utility lines. Demolition experts such as the team at Downright Demolition will ensure that the lines are taken care of so that no issues come up. 
4. Demolition contractor
As we've mentioned in each of the first three considerations, your demolition contractors will take care of the majority of these considerations for you. This is why choosing the right demolition contractor is so important. 
We did a deep dive of What to Look for When Hiring a Demolition Contractor in Edmonton on our blog so we won't go into too much detail here. However, a few important things to look for in a demolition contractor are trustworthiness, ability to complete the job on time and within budget, and experience in the industry. 
5. Cost
How much are your garage demolition services going to cost you? How much do you have in your budget for this project? Cost of your project is another crucial factor to consider. 
As mentioned above, a high-quality demolition contractor will be able to keep your project within budget for you. They'll also be able to provide you with an estimate that is accurate to your final price. 
We totally understand that larger home improvement projects like this can be pricey which is why, here at Downright Demolition, we make sure to provide you with the best pricing and the best work possible. 
6. Location
Garage demolition services often require large machinery for demolition and for removal of all leftover materials. Because of these requirements, we always encourage our valued customers to chat with us about the exact location of their garage before moving forward. 
Maneuvering the proper machinery to the job site and around other obstacles requires time and effort which will need to be accounted for throughout the process. The garage's proximity to your home, large trees or other obstacles, or other buildings/roadways will all change the overall cost and difficulty. 
Additionally, depending on your location in or around the city, getting the proper machinery to the job site can be more or less challenging. Your demolition contractors will be sure to discuss all of these considerations with you! 
7. Complexity of job
The complexity of the garage demolition services are also dependent on what the garage has been built on, what kind of foundation it has, how it was built, and the types of building materials used to build it. 
Talk with your demolition contractor about these factors so that they'll be able to explain how they affect your garage demolition. Remember – garage demolition services are definitely not one size fits all. 
8. Condition of the garage
Contrary to popular belief, an older, more decrepit building can actually be tougher to demolish. Why, you might ask? It's not because it would be harder to knock down. It's because it would be harder to knock down in an organized, methodical way. 
A methodical approach to garage demolition will mean that the materials are brought down right and don't create any issues or messes that are easily avoidable. 
Your demolition contractor will be able to talk to you about the current condition of your garage and will explain the effect that this will have on the demolition process. 
9. Salvageable materials 
As we described in our blog post, Three Main Types of Demolition Services & Why They're Important, demolition and deconstruction are two different things. If you're looking to salvage and possibly reuse any of the materials from your garage demolition, you should chat with your contractor about deconstruction. 
By deconstructing parts of your garage, you'll be able to save pieces or materials that you could reuse or repurpose for other home improvement projects. 
However, if you're completely done with the garage and ready to start completely fresh, feel free to stick with complete demolition and let the professionals take care of the leftover materials. 
---
If you're ready to get started on your garage demolition services, feel free to give our team a call at 780-906-3366! We'd love to help you out.