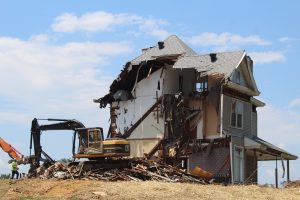 Have you recently experienced a house fire or flood? Maybe the layout of your home isn't functional for your lifestyle? Can you imagine the perfect home on a property you've just invested in? 
No matter the reason, demolishing a home with the promise of rebuilding after takes serious consideration from homeowners. This isn't an everyday renovation project and often takes a considerable amount of preparation and guidance from certified demolition experts like the members at Downright Demolition in Edmonton. 
How do you demolish a home? What is the average cost to demolish a home? Is there such thing as an interior demolition cost per square foot? These are all great questions that our team sees frequently when it comes to our residential structural demolition services. Check out our guide to demolishing your home to find out some of these answers!
Determining which type of demolition is right for your project
Depending on the type of renovation, remodel, or remediation project that you're looking to complete will determine the type of Edmonton demolition services that you're looking for.
If you're looking to replace particular elements of your home residential selective demolition is the right choice for you! With careful hands, professional demolition workers will remove the particular elements that you're looking to replace and remove them from your home without causing any damage to the existing structure.
If you're looking to start from a completely clean slate by tearing down your home then residential structural demolition services are what you're looking for. This is where our detail-oriented team will deliberately and fastidiously transform your property into raw potential for rebuilding to occur. 
Find the right demolition contractor for your project
When searching for local demolition services near you it's important to select a demolition company that is fully licensed, insured, has WCB for its workers, and is COR safety certified. This will not only provide you with a quality demolition service but also protect you from potential liabilities. 
Once you've completed your research, and have selected a team that will help you bring it down right, you'll have to reach out to the organization's dedicated project managers and estimators to go over the scope of your demolition needs and to get a free quote to determine the cost to tear down your home. 
Your demolition consultant will meet you on-site and go over possible demolition solutions. As certified demolition experts, they'll be able to thoroughly discuss your options. 
HINT: Always ensure that you receive any proposals or estimates in writing, and be sure the contractor's estimate spells out whose responsibility it is to pay for and pull permits for the work that is to be completed. 
Have your home thoroughly inspected for asbestos and other hazardous materials
It's important to consider the age of your home and the materials that it is made of no matter the demolition services the scope of your project calls for. Asbestos testing is often required by law depending on your location and remediation may need to be performed if fibers are found. 
Other hazardous materials that need to be considered are:
Asbestos

Lead paint

Mold

Vermiculite 
Get the necessary permits for the scope of your demolition project
If you're planning on completing any structural demolition then a permit will typically need to be pulled prior to the start date of your project. Typically this is discussed with your demolition consultant from the beginning so both parties understand who is responsible for this portion of the project. 
Disconnect live services
When completing any structural demolition project, and even some selective, it is important to remember that you could potentially be working with a live site. To ensure everyone's safety it's important to disconnect the following utilities and services before the demolition commences. 
Electrical

Water

Sewage

Gas 
Arrange for salvage or for debris removal
Tearing down a home can result in a lot of materials being reduced, reused, and recycled. It's important to connect with the appropriate organizations to donate as many salvageable materials as possible 
Across the country, charities and organizations like Habitat for Humanity have created deconstruction programs in which professional teams come to your house and take the salvageable materials to a home in need. 
Tear down the structure
Depending on the scope of the structural demolition project, this can take anywhere from a few hours to several days. Generally completed by a large hydraulic excavator, the team of demolition works will begin tearing down your home and carefully placing the unwanted section into the back of a debris bin to be further recycled. 
Remove all the debris
One of the last steps of your demolition project will be the removal of the resulting debris. A professional demolition company will remove all demolition debris from the site, leaving the site clean and ready for a new transformation. Typically, this means the removal of everything "down to the dirt," including removal of the house's foundation.
Prepare for the rebuild
Now that you have a clean slate, it's time for the rebuilding transformation to occur! Connect with other local home service providers to get started on rebuilding your dream home. 
Interested in working with a professional demolition company for your next home demolition project? Connect with Downright Demolition today at 780-906-3366. We would be happy to go over the guide to this type of demolition project and build you a free quote.