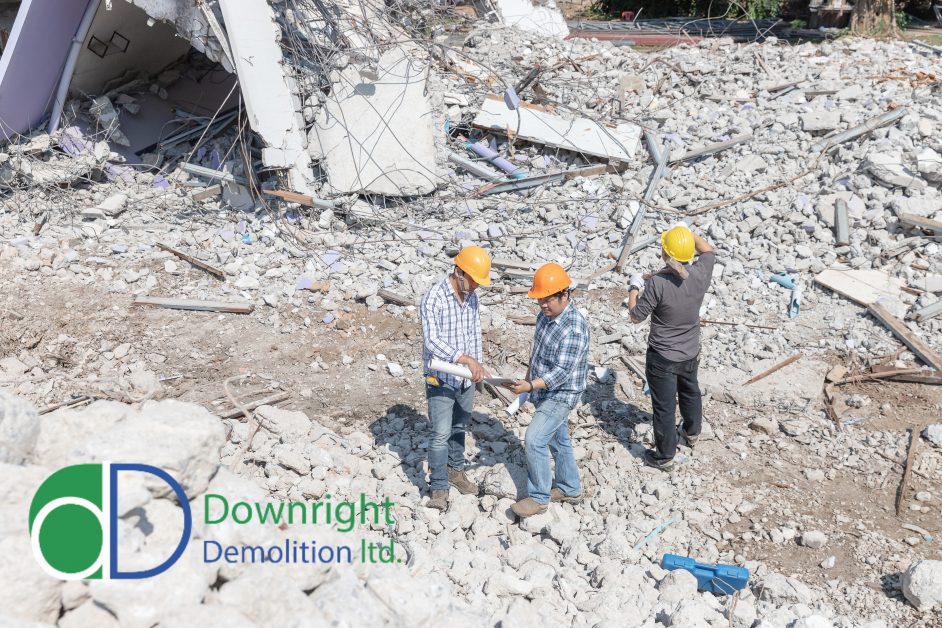 Whether you're a homeowner or business owner, finding a demolition contractor in Edmonton that is right for you and your specific project can be tough. Many people find themselves starting from scratch when looking for a demolition contractor and feel unsure of where to start. We totally understand. Demolition isn't a service that you're looking for every day, that's for sure! 
In this blog post, we'll take you through four main things to look for when hiring demolition contractors in Edmonton. These green flags will be helpful to you whether you're looking to hire demolition contractors to completely knock down a four story building or just to demolish one wall in your home. 
Let's jump right into it!
Environmental Consciousness
One of the most important qualities that you can look for in a demolition contractor is a focus on being environmentally friendly. Believe it or not, demolition doesn't actually have to produce a lot of waste. In fact, demolition services can produce valuable goods and keep them in circulation in the industry. 
High quality demolition contractors will ensure that, rather than producing unnecessary waste, they are repurposing or recycling the materials that become available during the demolition process. Look for demolition contractors in Edmonton that have recycling initiatives and are dedicated to upholding them. Here at Downright Demolition, we recycle at least 90% of construction waste. 
Demolition contractors that are environmentally conscious will also choose deconstruction, rather than total demolition, where possible in order to reduce contamination and waste in general. By doing so, they'll also be able to sort and salvage the materials, rather than dumping them at the landfill at the end of the job. Whatever can be salvaged can either be repurposed by the property owner themselves or put back into the cycle. 
A focus on reducing the environmental impact of demolition is imperative and sets demolition contractors in Edmonton apart. 
A Focus on Health & Safety
Demolition sites can become both dirty and dangerous. This is why it's essential to look for Edmonton demolition contractors that care about and concentrate on health and safety. Despite the extra time, consideration, and care that it takes to provide a high level of health and safety, it is an essential quality to look for in demolition contractors. 
Here at Downright Demolition, we have watched our focus on health and safety pay off time and time again throughout our 50 years of experience. As a demolition company that is Workplace Safety Certified, we have the following health and safety protocols in place: 
We notify utility companies, local authorities, and any other important parties about the demolition.

We provide personal protective equipment and require all of our employees to wear it.

We are sure to dispose of all hazardous materials safely and properly to remove the risk of contamination or combustion.

We develop and implement safety plans for any confined spaces or other areas that require them. 

We establish safe areas for any spark-producing operations for the best fire safety.
When hiring a demolition contractor in Edmonton, ensure that they have thorough health and safety procedures and protocols in place before choosing to work with them. The project manager that you work with should be highly trained and able to walk you through the personal protective equipment, extra checks, and hazard assessments that they require on site. 
Local Ownership & Operation
Finding a demolition company that is locally owned and operated could be the difference in care, quality, and precision that you're looking for. Although bigger demolition contractors may seem tempting, locally owned and operated demolition companies provide a level of service that can't be matched. 
Local Edmonton demolition contractors not only know the city, they are also aware of and up to date with laws and regulations surrounding demolition in the area. Edmonton-based demolition contractors will be able to provide you with demolition services while still aligning with and adhering to the necessary laws and regulations. 
Additionally, a locally owned and operated demolition company will be able to provide a high level of care and attention to detail for you and your project. As a local company, Downright Demolition has a major focus on customer satisfaction and creating long-lasting relationships with everyone that we work with. This is something that you simply won't find in larger, international demolition companies. 
Experience in the Demolition Industry 
One of the most important things to look for when hiring a demolition contractor in Edmonton is experience in the demolition industry. Experience not only means that the contractors have the know-how to provide high quality services but also means that they will be able to guide you through the demolition process. 
After over 50 years of experience in the industry and with many, many demolition projects under their belt, our team of demolition experts knows how to Bring It Down Right! 
Experienced demolition contractors in Edmonton can ensure that you are receiving the demolition services that you need. They will be able to provide you with valuable advice and information regarding the details of the demolition process while providing you with the highest quality service possible. 
Demolition contractors with experience in the industry will also have the problem-solving skills and abilities necessary to take on and solve any issues that may arise throughout the demolition. Although issues shouldn't be expected, it's important that the demolition contractor that you hire knows how to address them if they do unexpectedly come up. 
---
We hope that this blog post has given you the knowledge you need to hire a high quality demolition contractor here in Edmonton for your demolition needs! We understand how tough and confusing the process of finding the right demolition contractor for you can be and want to help make it easier and more straightforward for you. 
If you're looking for a trustworthy, high quality demolition contractor to help you with your next demolition project, call our team of experts today at 780-906-3366!